A common issue that can occur with users new to installing WordPress themes is a "Broken theme and/or stylesheets missing" error message being displayed when trying to upload or activate the theme.
This error message does not mean that the item is not working, it simply means you does not uploaded correct theme ZIP file.
If you purchased theme on Themeforest

There are 2 options to download the WordPress files on Themeforest: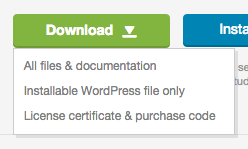 All files and documentation - you need to Extract the contents of the zip file, because this is not only theme file and it can't be uploaded to WordPress and will give you error
Installable WordPress files only - you need to use this ZIP file to upload theme to your WordPress or FTP.
Upload the Installable WordPress file admin area
Log in to your WordPress admin area
Browse to Appearance > Themes
Click on 'Add New'
Click 'Upload'
Browse and select the theme zip file to 'Upload'
Upload Via FTP
WordPress files can also be uploaded manually via FTP.
Upload the files to /wp-content/themes/ folder on your server.
Login to your WordPress admin area to change the theme.
Check out the guide on WordPress.org here.
If you purchased theme on CreativeMarket, UI8, etc
Unpack your downloaded product ZIP file first (on your PC) and use themename.zip (for example aerin.zip for Aerin theme) file to upload it to WordPress. Do not upload ZIP file that you downloaded from marketplace to WordPress - this ZIP contain both theme and documentation files, you need to unpack it first.